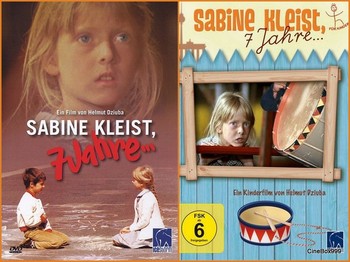 Сабине Кляйст, 7 лет... (нем. Sabine Kleist, 7 Jahre...) - немецкий художественный фильм, снятый режиссёром Гельмутом Дзюбой. Премьера фильма состоялась 2 сентября 1982 года в кинотеатре "Kino International" в Берлине. В ГДР фильм впервые был показан в феврале 1983 года на Детском кинофестивале 33-го Берлинского международного кинофестиваля. На телевидении ГДР фильм был впервые показан 24 декабря 1983 на DFF 1. Первые несколько секунд фильма с фотографиями изображающими аварию, погибших родителей Сабине и её поступление в детский дом были вырезаны из эфира (в данной версии фильма все вырезанные кадры присутствуют).
Грустный фильм о потерянном детстве - маленькая Сабина провела свое детство в детском доме после гибели её родителей в автомобильной катастрофе и теперь она пытается найти своё место в этом мире. Она бесцельно слоняется по городу, встречает разных людей, но никто ей не рад...
DE.
Sabine Kleist, 7 Jahre… ist ein deutscher Kinderfilm von Helmut Dziuba aus dem Jahr 1982.
Die kleine Sabine lebt nach dem Unfalltod ihrer Eltern im Heim. Langsam lebt sie sich ein. In ihrer Erzieherin Edith sieht sie fast eine zweite Mutter. Als Edith wegen ihrer Schwangerschaft den Beruf aufgibt, bricht für Sabine eine Welt zusammen. Sie läuft aus dem Heim davon, irrt zwei Tage und Nächte durch Berlin auf der Suche nach Menschen, denen sie sich mit ihrem Kummer anvertrauen kann. Es gibt flüchtige Begegnungen in einem Zirkus, auf einem Ausflugsdampfer mit einem alten Mann, mit einem polnischen Jungen, der seine Eltern sucht. Irgendwann erkennt Sabine, dass alle diese Menschen ihr zwar gut sind, aber nicht auf Dauer für sie sorgen können. Sie geht zurück ins Heim, das doch ihr Zuhause geworden ist.
EN.
Since her parents died in a car accident, Sabine has lived in an orphanage. When Edith—her beloved caretaker and the only adult she trusts—leaves to have a baby, Sabine runs away. Like Alice in Wonderland, the spunky little girl wanders through the city of Berlin, observing life and meeting people. After two days and nights filled with amusing and poignant stories, she realizes there is a place she belongs.
Helmut Dziuba, director of many children's and youth film classics, tells his prize-winning story from Sabine's subjective viewpoint. The film's themes of loss, loneliness, and death stand out as markedly atypical and bold—especially, but not only in the context of East German cinema.
Director: Helmut Dziuba.
Cast: Petra Lämmel, Simone von Zglinicki, Martin Trettau, Petra Barthel, Johanna Clas, Carl Heinz Choynski, Peter Cwielag, Gert Gütschow, Heide Kipp, Uwe Kockisch, Christa Löser, Klaus Piontek, Gudrun Ritter, Regine Hilz, Lars Hillersheim.
DDR, DEFA, 1982.
Language: German, Russian.
Subtitles: Arabic, German, Spanish, English, French, Italian, Japanese, Portuguese, Russian, Turkish, Chinese.
Download Сабине Кляйст, 7 лет... / Sabine Kleist, 7 Jahre...